Young parents against stereotypes
Giorgi Javakhishvili and Anastasia Ianakopulos are the parents of four-month-old Anisia. They are first-time parents and equally share responsibility for their child.
Giorgi says fatherhood is "a very difficult, but extremely pleasant process that involves much responsibility", and reflects on how his priorities have changed: "Before, I would put my desires and interests first, but now I have instinctively switched to a tiny, miniature person and everything, all my thoughts, my needs are about her," he says, adding that while he used to love going out and spending his free time with friends, now he can stay at home for weeks, but it does not bother him because "he has someone at home" who fills his life with all the emotions that he needs.
After the birth of his child, he turned from a serious person into an "ordinary clown", he laughs: "Both my wife and I sometimes behave in such a way that if someone were to shoot a video of us and show it to us later, we'd be incredibly embarrassed, but when we're with our child, we forget about everything, as long as we can make her happy. When she smiles at me, I melt like a candle."
Fathers' School
When they learned that they were expecting a child, Giorgi and Anastasia initially went through "great emotional stress" because they suddenly faced questions they had never had before.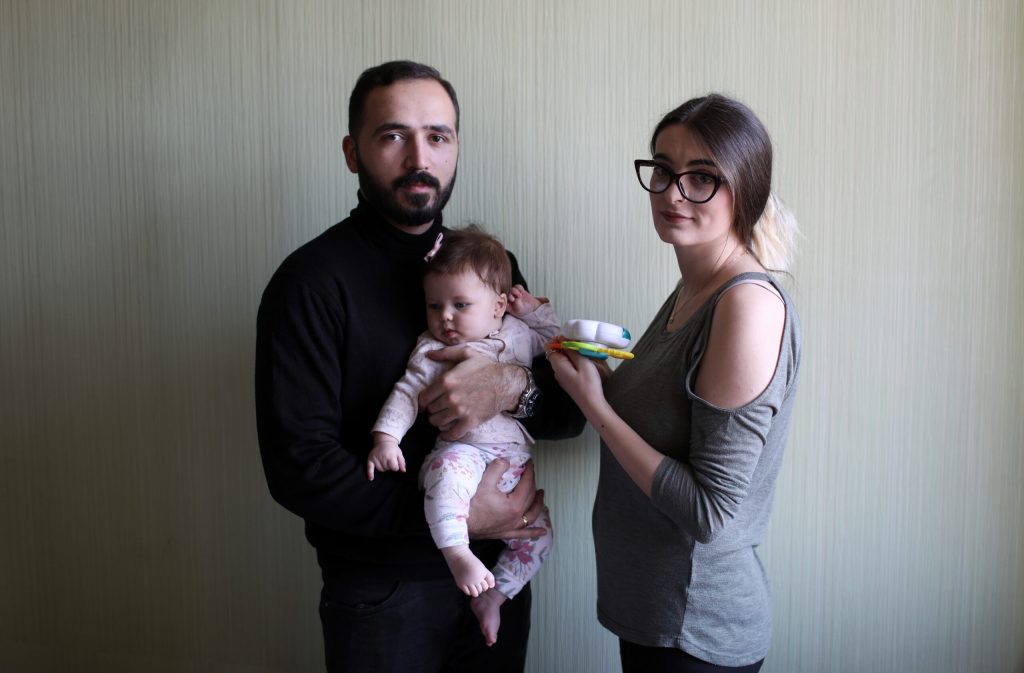 "I started searching for things: I was googling, reading, and in this process, I came across information about the Fathers' School. I registered right away, without a second thought. At that moment, I realised there were many things I needed right now, and it was a lucky coincidence," says Giorgi.
He is one of about 90 fathers participating in the Fathers' School initiative jointly implemented by the United Nations Population Fund (UNFPA) and the organisation Care Together. The initiative has been implemented in Tbilisi and Kutaisi since 2021 with the support of the European Union.
"Anastasia is very broad-minded, and she wanted me to be involved in the process of pregnancy, childbirth and raising our child. I felt that she was very pleased with my initiative and the step I had made," says Giorgi about his decision to participate in the Fathers' School.
He said the Fathers' School had taught him a lot and made him a more decisive person. If at first he hesitated whether to attend the birth of his child or not, the advice of other fathers convinced him that he had to be there for this important process.
"Many people had told me that it was difficult and stressful, and said I didn't have to be there. But when I joined the Fathers' School, they told me: 'If you can and are ready to handle the process psychologically, you should definitely attend the childbirth because your wife needs someone who will support her and help her,' and this was what decided me to attend the birth," recalls Giorgi, who spent 18 hours in the maternity ward with his wife.
Sometimes when the baby was left alone in the ward, he went up to her and call her his 'Pomelo', as he did when she was still in the womb. "She grabbed my finger, looked at me, and I just felt that it was the right thing to do."
Fatherhood needs to be learned
Giorgi says the Fathers' School helped him to enhance his knowledge in many ways, and he became more aware of his own and, in general, a father's role in the family. However, people around him were sceptical about his decision to join the Fathers' School.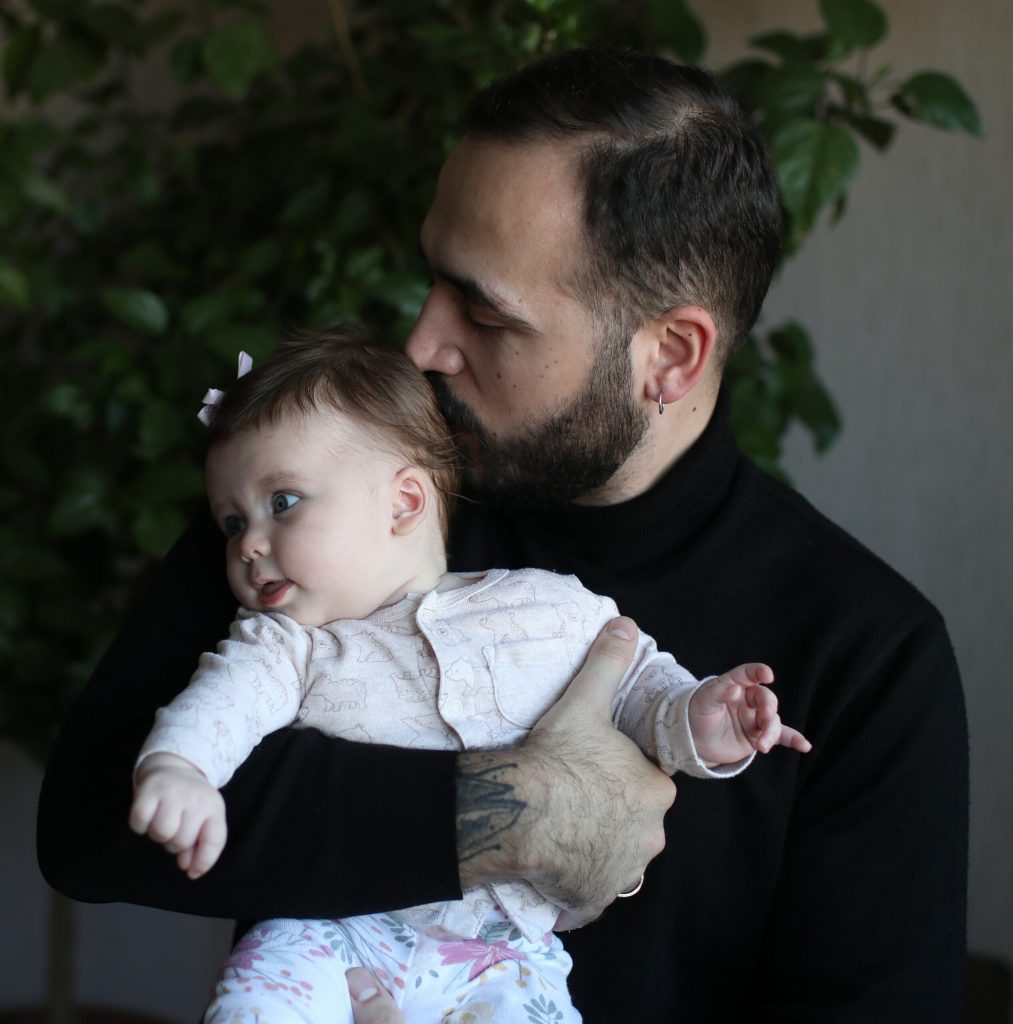 "We talked about our personal experiences, our relationship with our fathers, our memories, what we remembered [from our childhood]. By reflecting on all this and processing the information, I realised that the people who told me that I shouldn't join the Fathers' School because 'it's not appropriate for a man especially a Georgian man, to have someone teach him fatherhood, because fatherhood doesn't need to be learned, it comes naturally', I understood that they were just wrong. In a conservative country like Georgia, the Fathers' School does a great job for people with stereotypical attitudes."
A woman's and a man's duties
Giorgi strongly believes that in order to eliminate violence against women in Georgia, children should be aware of equality from the very youngest age: "Boys are usually made to do 'manly' things: fathers will take them to the garage, take them to a party with friends or offer to do something similar, while girls stay with their mothers and help them with household chores. Boys are told not to do any household chores because it's not a man's duty. Such things should be eliminated. Childhood traumas determine a lot later in adult life."
According to him, many women tend to hide domestic violence because they "have nowhere to go", which is wrong; women should know that "no matter what happens, they have somewhere to go and they can always go back to their parents' place".
"Many things can be avoided in this way. It can all start with a single blow that later takes more severe forms and can lead to fatal consequences. The woman should know that apart from her husband, she has her family, her parents, whom she can rely on and share her ideas with, who can support her and allow her to return back to them, at any time, because the house is hers as well and does not only belong to sons."
The European Union has been working with the United Nations Population Fund (UNFPA) for years to eliminate gender-biased sex selection (GBSS) and other harmful practices in Georgia. Supporting families by ensuring the equal participation of women and men in child care and household chores is a top priority of the EU-funded project 'EU4 Gender Equality: Together against gender stereotypes and gender-based violence', implemented jointly by UN Women and UNFPA. The Fathers' Schools in Tbilisi and Kutaisi are a key action of this project.