Never give up: How Leila's lessons are changing women's lives in Karajala
Inhabited by ethnic Azerbaijanis, the village of Karajala is 6km from Telavi in Eastern Georgia. In the Karajala Community Centre building, in the centre of the village between the mosque and the public school, Leila Balashvili gives Georgian language classes to ethnic Azerbaijani women and children.
Teacher Leila, as locals know her, lives in the neighbouring village of Ruispiri with her husband and four dogs. As there is no municipal transport between the villages, twice a week, on Mondays and Fridays, she goes all the way to Telavi and then back to Karajala to teach Georgian language classes.
"Going to Karajala, I feel worried about the lessons. Some of the pupils do not know Georgian at all, some are shy to speak, fearing that they'll be mocked. For them I get prepared in a very different way", Leila says.
Like other women from Karajala, Leila starts her day with housework. Occasionally she cultivates a plot of land behind her house to get it ready for spring. Vegetable gardening is her favourite task.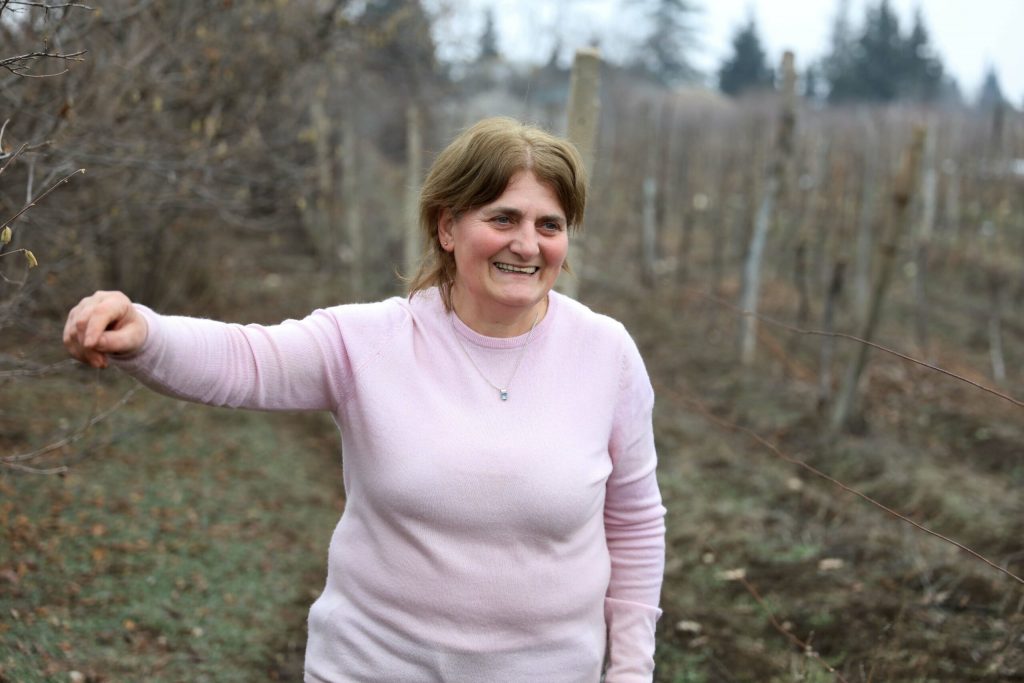 She is a qualified philologist. For 14 years she worked as a teacher in Napareuli Public School. But when her own children started taking up more and more of her time, she had to leave her job. Years later, she got the job of Karajala kindergarten teacher. Since then, Leila's struggle for the women of Karajala hasn't ceased.
"By the time I started to work in the kindergarten, my children were students and had left the family home. When I told them I was going to start working, they were so excited… I realised that my children were happy that their mother had a profession and was socially adapted," Leila recalls.
Some women in Karajala get married very young, sometimes under coercion. Since they do not speak Georgian, they have limited access to public services, education, health care, regular paid jobs, income, and property. They lack the opportunity to participate in public life and decision-making.
"I noticed that parents I met were somehow inhibited. If I offered them to stay a bit longer as I had to talk to them, they kept answering that mother-in-law or father-in-law would be angry if they were late. They had problems like this," says Leila.
In these circumstances, teaching Georgian was not the only goal for Leila. She wanted to empower women in Karajala and support their social inclusion.
"I was constantly worried that I was unable to set up communication with the parents, let alone their children. The families did not speak Georgian. The parents were coming and talking to me in Russian. I have strictly forbidden to communicate with me in Russian and requested that they talk to me in Georgian.
"The men know Georgian. Seriously. They know and speak Georgian. They are very much adapted to Telavi. The women are isolated. Basically, they care for the family, vegetable garden, animals. Even the shopping is done by husbands or fathers-in-law," says Leila.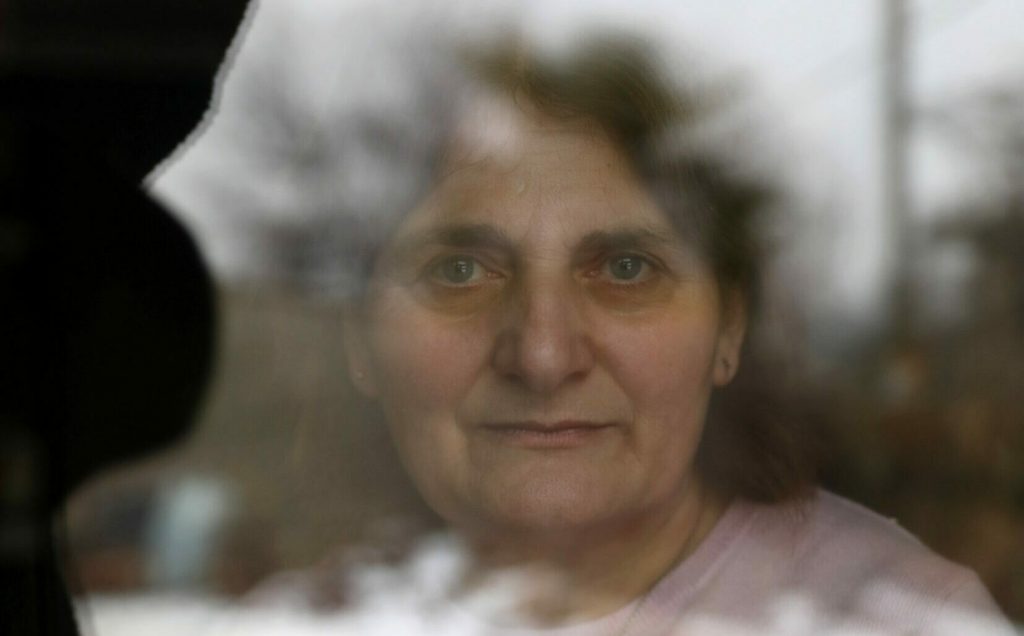 In the Karajala kindergarten, she learned from representatives of the Pankisi Gorge Elderly Women's Council about the organisation 'Women Engage for a Common Future' (WECF), which was implementing the Women's Power project with EU support. This was a turning point in her daily life. Leila's idea received funding from the project and the NGO Karajala Community Centre was established. The Centre aims to support awareness rising and personal development of the women.
The goal of the project is to support the women to enable their equal participation in the economic and political life of the country, and to change patriarchal mindsets or stereotypes. However, until the Georgian language teacher and her initiative gained the trust of Karajala residents, she had to overcome numerous obstacles.
"They were suspicious, 'Will anybody teach us anything, or do anything for us for free?' Family members did not allow some women to attend the lessons, some women were accompanied by husbands who waited here. I met these people, invited them as well. By the way, one mother-in-law came together with her daughter-in-law," recalls Leila.
Her main lesson is: all women should be happy and successful, primarily for themselves.
"I would like every woman to understand that if you do not aspire to anything and you do nothing, you will also have no aspirations for your child. With the group I work with, I achieved this: all the women now insist that they will not allow their daughters to drop out of school, and will equip them with education," says Leila.
Today, Leila has a perfect knowledge of the problems of the women in Karajala. She helps young girls in choosing an educational institution.
"I was very happy when my mother told me about this course. I was bored by school and home. I made friends here, learned a lot, had fun," says Leila's student Marika Asanova, looking at the teacher from time to time to make sure that each word she says in Georgian is correct.
Thanks to Leila's support, one of the students was admitted to art school; she helped another student to find funding for an operation. Now Leila is looking to help a girl who would like to study veterinary medicine, but there is no relevant college in Telavi, and she is unable to travel to Tbilisi.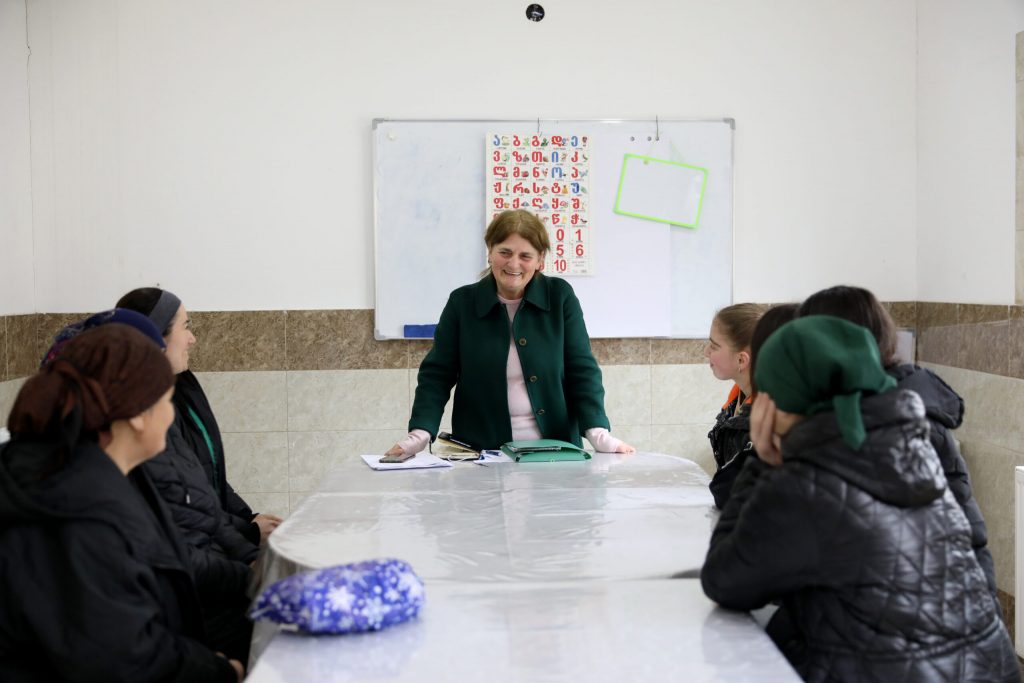 "Many of us don't even know how to sign our names in Georgian. Last year, Teacher Leila helped me to join the art school and I still study there. I would like the boys to engage in the projects like this," says Aisel Osmankizi.
Leila says that for her and for the women of Karajala, their Georgian lessons represent time dedicated to their own self, and this time is especially precious for them.
"This project definitely changed my life. The fact that I meet the women and share my knowledge with them cheers me up, fills me with enthusiasm," says Leila.
"Life is demanding for women residing in rural areas. Nobody prevents me from going elsewhere and entertaining myself, but I have limited time, I must do something or take care of something within a certain timeframe. I must take care of the vineyard, the house, I have to cook. Thus, for us Mondays and Fridays are days of pleasure and jollity. We brush up, unplug from housework, and concentrate on ourselves," explains Leila.
"I am very happy that I attend these courses," Kheiran tells us in almost perfect Georgian. "I am 64, but still with the young girls. I learned lots of new things. It should be continued. If it was a bit difficult last year, this year it will be easier. I spent 15 years in Kazakhstan and I forgot Georgian. I spoke in Russian." She is grateful that she can talk about the problems of her village.
Another student, Madina Baghakashvili, said educational issues were problematic in Karajala, and the Georgian language course was really important for young people.
Leila aims to expand her organisation in the future and receive new members, as more women need protection, support, and motivation. Leila poses a simple question and leaves some advice to those women who have not yet found their occupation or never have had a similar opportunity:
"Looking at your mothers, don't you believe that women are very powerful? It's never ever too late. You must forget the attitude of stopping, giving up, accepting fate, 'I'll fail anyway', 'too late for me'. Be bold when making decisions, then others will follow you."
Author: Lana Rokva